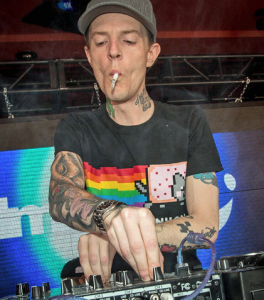 Deadmau5 skriver i sin senaste post på tumblr att han behöver ta en liten paus från online-världen. Han brukar bjuda på sig själv rätt mycket när han är online. Han twittrar från @deadmau5 och jobbar väldigt aktivt med sina fans. Även fast han inte alltid svarar på allas tweets, så svarar han på tweetsen från studion i sin livestream på live.deadmau5.com.
Det är helt rätt att han borde ta en liten paus. Han är så sjukt aktiv att jag själv blir förvånad ibland hur han orkar med. Han skriver att han inte kommer att ställa in några spelningar och inte heller sluta skriva musik. Men att han måste kunna göra det i lugn och ro utan att bli störd. Deadmau5 vill göra bra musik och inte skapa halvdana låtar som är "helt okej". Joel Zimmermann som han egentligen heter mår ingen vidare just nu.
Här är posten han skrev på tumblr:
So heres whats happening. im going to unplug for a wee bit. which doesnt mean im cancelling any upcoming shows or anything, im just gunna slam on the breaks for a bit and force myself to endure some quiet time. in that time, obviously the gears will still be moving, ill still be writing, and the releases will still come out (heads up for something crazy real soon like) and yeah.

i got a lot of work to do on some stuff. so, best i just chill the fuck out a bit and just get it done, and get it done RIGHT, until im 100% satisfied with it. Then our regularily scheduled program shall continue. but yeah, im basicly pretty miserable right now and need to pull the fuck back and figure out whatever the fuck it is i do.